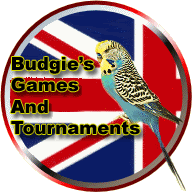 [
Budgie's Word Search Five
] And the correct Link
[
Budgie's Tourney's
]
This game is for fun and a trial run, some of you may find fault with it, if you do please let me know so that it can be improved.
Remember its only for fun.
Once a player has found a word
FROM MY LIST
they cannot take another turn untill another player has tried.
Who ever finds the most words from the
list that I have
wins.
There are ? words from a Word Search Booklet.
As soon as I feel there are enough to start, then I will bring out the grid.
Please rememer that there is a chance other words maybe found in the grid.
They will not count in this game
Players cannot choose same words as another player A Player who takes a wrong move Loses 2 points Score 1 point for each correct word
*Please do not edit any part of the page Once you have placed your word
There are 44 Words in the Grid
43 found.... 1 more to find
As you will notice, it will get harder to find words, so if a player has not made a move within a 24 hour period then the last player to have played.. will be allowed to take another turn
Theme is........Eatable
| | | | |
| --- | --- | --- | --- |
| aprildawn | katja | Karen Q | roses4gypsy |
| found | found | found | found |
| carrots | Spinach | sausage | ** |
| Sage | spare ribs | pot roast | ** |
| ** | spaghetti | potatoes | ** |
| ** | kale | perch | ** |
| ** | duck | orange | ** |
| ** | rhubarb | hamburger | ** |
| ** | dressing | cake | ** |
| ** | nuts | Bread | ** |
| ** | eggs | Beans | ** |
| ** | rice | turkey | ** |
| ** | halibut | ** | ** |
| ** | Pig | ** | ** |
| ** | ** | ** | ** |
| ** | ** | ** | ** |
| ** | ** | ** | ** |
| ** | ** | ** | ** |
| ** | ** | ** | ** |
| ** | ** | ** | ** |
| ** | ** | ** | ** |
| ** | ** | ** | ** |
| Found 1 | Found 11 | Found 10 | Found Nil |
mickeymouse
robertst
SarahMills
{ Player }
found
found
found
found
apples
trout
milk
**
Acorn
pie
tomatoes
**
**
greens
lamb
**
**
taco
soup
**
**
lime
Salad
**
**
eel
goose
**
**
**
chicken
**
**
**
custard
**
**
**
corn
**
**
**
lettuce
**
**
**
peas
**
**
**
toast
**
**
**
onions
**
**
**
okra
**
**
**
steak
**
**
**
tapioca
**
**
**
ice
**
Found 1
Found 4
Found 16
Please Enter Name..Date and word Found in the list below, If correct, I will place the word into the players area
Game Three Starts 23rd November 2011
| | | | | | | | | | | | | | | |
| --- | --- | --- | --- | --- | --- | --- | --- | --- | --- | --- | --- | --- | --- | --- |
| K | S | T | U | B | I | L | A | H | C | A | N | I | P | S |
| C | A | P | R | O | E | B | D | R | A | T | S | U | C | B |
| U | H | L | A | O | N | A | C | O | R | N | O | K | R | I |
| D | G | I | E | G | U | I | N | V | R | S | L | E | Y | R |
| A | R | M | C | S | H | T | O | S | O | R | A | N | G | E |
| L | E | E | T | K | Y | E | S | N | T | D | M | X | O | R |
| A | E | U | S | E | E | E | T | H | S | P | B | R | O | A |
| S | N | T | K | S | O | N | S | T | S | E | E | T | S | P |
| E | S | R | T | T | I | A | V | B | I | G | A | Z | E | S |
| O | U | U | A | U | Q | N | R | D | R | C | F | S | T | A |
| T | N | M | A | Q | C | A | G | U | O | K | E | E | O | U |
| A | O | R | S | S | B | E | B | I | A | L | E | E | A | S |
| T | K | A | G | U | K | M | P | E | P | E | C | X | S | A |
| O | E | G | H | A | A | A | T | P | M | I | L | K | T | G |
| P | E | R | C | H | T | S | A | O | R | T | O | P | I | E |