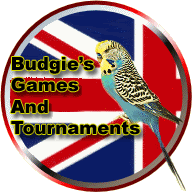 [
Budgie's Ladies-V-Gents Backgammon Challenge Three
] And the correct link to use
[
Budgie's Tourney's
]
1. Game
BackGammon
2.
Two day day loss of game
.....
3. Player *One to send out invites and Player One or Player two may post game number.
4. This is a single elimination game.
5. Please add this to your wiki so its easier to find.
6. Please send
Budgie

a message if you need any help.
7. Invites must be sent out within 48 hours then accepted in 48 hours or a game forfeit
8. Two groups will be set up. Ladies and Gents
9. The winner from the Gents will play the winner from the ladies
Budgie will donate 3 Golderos to the winner of the final Game.
Sign-ups OPEN 14th May 2012.
Group One Ladies Round one starts 4th June 2012
Group One Ladies Round Two starts 5th June 2012
Group One Ladies Round Three starts 21st June 2012
Group One ladies Final Round starts 27th September 2012

and the winner is
smelly feet


Group Two Gents... Round one starts 4th June 2012
Group Two Gents... Round Two starts 6th June 2012
Group Two Gents... Round three starts 18th June 2012
Group Two Gents Final Round starts 24th September 2012

and the winner for the Gents is
GUINESS14



and the winner for the Ladies is
smelly feet


Ladies V Gents Final game