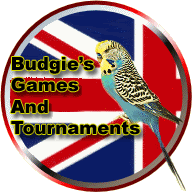 [
Budgie's Double Word Search Seven
] and the correct Link
[
Budgie's Tourney's
]
This game is for fun, some of you may find fault with it, if you do please let me know so that it can be improved.
Once a player has found a word
FROM MY LIST
they cannot take another turn untill another player has tried.
Who ever finds the most words from the
list that I have
wins.
There are 42 words from a Word Search Booklet.
As soon as I feel there are enough to start, then I will bring out the grid.
Please rememer that there is a chance other words maybe found in the grid.
They will not count in this game
Players cannot choose same words as another player A Player who takes a wrong move Loses 2 points Score 1 point for each correct word As the game reaches completion, words will be harder to find.If at that time a player has not taken a move in 24 hours then the last player who did make a move will be allowed to have another attempt
*Please do not edit any part of the page Once you have placed your word
There are 64 Words in Total
Hints.. Diet S--m
Themes Are..
Fit as a Fiddle. All found
Sweetie Jar. All Found
| | | | |
| --- | --- | --- | --- |
| MM David littlefair XI | katja | teawoman | rUsureU_ want2doTHAT |
| found | found | found | found |
| Chocolate | truffle | muscle | ** |
| Candyfloss | pastille | aerobics | ** |
| Coconut | vanilla | model* | ** |
| Liqourice | chewing gum | figure | ** |
| Lollipop | sherbet | pie* | ** |
| Peardrop | dolly mixture | run | ** |
| Bonbon | humbug | sap* | ** |
| Winegum | treacle | trim | ** |
| Aniseed | icing | leap | ** |
| Gala* | caramel | ** | ** |
| Stomach | toffee | ** | ** |
| Stretch | agile | ** | ** |
| Body | health | ** | ** |
| Workout | weights | ** | ** |
| Gymnasium | active | ** | ** |
| Warmup | press* | ** | ** |
| Exercise | exertion | ** | ** |
| Rock | jogging | ** | ** |
| Sugar | lithe | ** | ** |
| Well | situp | ** | ** |
| Physical | keep fit | ** | ** |
| Candy* | jump | ** | ** |
| Marzipan | bend | ** | ** |
| Pressup | thigh | ** | ** |
| Supple | ** | ** | ** |
| Stand | ** | ** | ** |
| Toes | ** | ** | ** |
| Shape | ** | ** | ** |
| Fudge | ** | ** | ** |
| Jelly | ** | ** | ** |
| Waist | ** | ** | ** |
| Class | ** | ** | ** |
| Corn* | ** | ** | ** |
| Set* | ** | ** | ** |
| Spa* | ** | ** | ** |
| Sweat | ** | ** | ** |
| Sit* | ** | ** | ** |
| Nougat | ** | ** | ** |
| Lay | ** | ** | ** |
| Trot | ** | ** | ** |
| slim | ** | ** | ** |
| Found 35 | Found 23 | Found 6 | Found ** |
| | | | |
| --- | --- | --- | --- |
| DebiM | aprildawn | { Player } | { Player } |
| found | found | found | found |
| ** | ** | ** | ** |
| ** | ** | ** | ** |
| ** | ** | ** | ** |
| ** | ** | ** | ** |
| ** | ** | ** | ** |
| ** | ** | ** | ** |
| ** | ** | ** | ** |
| ** | ** | ** | ** |
| ** | ** | ** | ** |
| ** | ** | ** | ** |
| ** | ** | ** | ** |
| ** | ** | ** | ** |
| ** | ** | ** | ** |
| ** | ** | ** | ** |
| ** | ** | ** | ** |
| ** | ** | ** | ** |
| ** | ** | ** | ** |
| ** | ** | ** | ** |
| ** | ** | ** | ** |
| ** | ** | ** | ** |
| ** | ** | ** | ** |
| ** | ** | ** | ** |
| Found ** | Found ** | Found ** | Found ** |
Please Enter Name..Date and word Found in the list below, If correct, I will place the word into the players area
Game started 29th march 2012
Grid One Fit as a Fiddle
.....................................................|....|
Grid Two.. Sweetie Jar
| | | | | | | | | | | | | | | | | | | | | | | | | | | | | | | |
| --- | --- | --- | --- | --- | --- | --- | --- | --- | --- | --- | --- | --- | --- | --- | --- | --- | --- | --- | --- | --- | --- | --- | --- | --- | --- | --- | --- | --- | --- | --- |
| M | I | R | T | E | V | I | T | C | A | W | P | B | X | G | ... | J | Z | G | N | E | T | A | L | O | C | O | H | C | P | Y |
| W | O | R | K | O | U | T | S | T | H | G | I | E | W | Y | ... | P | F | U | T | A | M | U | G | G | N | I | W | E | H | C |
| M | O | D | S | T | R | E | T | C | H | A | W | T | E | M | ... | E | D | B | T | C | P | V | E | E | L | C | A | E | R | T |
| I | Y | K | E | E | P | F | I | T | C | L | A | O | P | N | ... | C | E | M | U | A | D | I | U | G | Y | R | Q | B | X | A |
| L | D | D | T | L | M | E | S | A | A | A | R | R | A | A | ... | I | R | U | N | R | E | L | Z | P | D | L | Q | A | R | S |
| S | O | N | O | V | C | C | I | E | M | C | M | T | H | S | ... | R | U | H | O | A | E | B | O | R | R | U | L | O | C | S |
| E | B | A | E | P | I | S | T | W | O | I | U | G | S | I | ... | O | T | R | C | M | S | P | O | Z | A | W | F | E | G | O |
| H | U | T | S | B | A | G | U | S | T | S | P | N | E | U | ... | U | X | K | O | E | I | P | X | N | Y | M | K | A | J | L |
| T | C | S | O | H | E | E | P | M | S | Y | P | I | S | M | ... | Q | I | G | C | L | N | H | B | M | B | S | E | P | S | F |
| I | L | R | B | L | H | T | L | A | E | H | U | G | I | F | ... | I | M | N | L | O | A | T | A | G | U | O | N | D | G | Y |
| L | E | S | P | H | G | I | H | T | R | P | S | G | C | Q | ... | L | Y | O | T | O | R | M | B | G | S | G | N | K | N | D |
| A | L | P | S | T | S | I | A | W | U | P | S | O | R | L | ... | U | L | A | L | L | I | N | A | V | H | E | E | L | I | N |
| K | U | A | N | A | P | M | U | J | G | R | E | J | E | L | ... | I | L | C | T | E | B | R | E | H | S | V | J | N | C | A |
| S | T | J | Y | U | L | A | N | O | I | T | R | E | X | E | ... | T | O | F | F | E | E | E | L | F | F | U | R | T | I | C |
| A | G | I | L | E | R | C | Z | S | F | I | P | Y | E | W | ... | I | D | F | M | E | L | L | I | T | S | A | P | N | W | W |