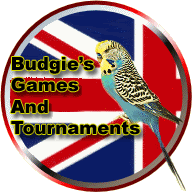 [
Budgie's Back-stroke Hypergammon
] and the correct Link
[
Budgie's Back-stroke set-up
]
[
Budgie's Tourney's
]
1. Game HyperGammon
2. Two day loss of game.
3. Player 1 invite player 2
4. Please add this to your wiki so its easier to find.
5. Send
Budgie

a message if you need any help.
6. Invites must be sent out within 48 hours then accepted in 48 hours or a game forfeit
7. Inviter must always be black, and the ratings affect to be left untouched
8. A win moves you on
One Wave
a loss keeps you on the beach...'
Sign-ups OPEN 7th April
Budgie

will donate













to the winner

and the winner is
Hillbilly


and 2nd Place goes to
GameNut



to all the players who took part

everyone
Please choose your own Diving board, and best of luck for when games start
Game 11 starts 13th August 2012.
Game 12 starts 13th August 2012.